While healthcare organizations are on their digital journey to provide accessible, affordable and quality healthcare services, the COVID-19 pandemic aggravates the existing challenges faced by the sector. In addition to low doctor patient ratio and inadequate healthcare infrastructure, the pandemic resulted in shortage of beds, ventilators, insufficient testing capacity, resources, biosafety measures and a surge in patient contacts and queries, deepening the woes of the sector.
As the pandemic redefines the new normal, healthcare organizations are accelerating their digital transformation journeys to be able to address the need for increasing tele consultations, remote diagnostics, customer support chatbots and wearable patient care.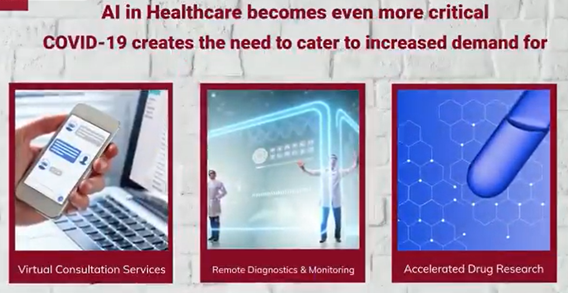 Here are my 10 picks for AI use cases that can be prove to be extremely useful (specifically amid the pandemic) and help organizations across the healthcare value chain advance through their digital journeys.
Drug development – Healthcare organizations, specially pharma and life sciences players along with research centres are now heavily using AI to accelerate the drug discovery process which becomes even more critical in case of the COVID-19 vaccine
Disease Simulation – AI is also being utilized to replicate the behaviour of disease causing microbes and organizations are seeing benefit in analysing it to help in coming up with possible cure of diseases
Population health Insights – Use of AI to understand drug prescription patterns and propensity of diseases or comorbidities in case of COVID-19, predict drug demand and estimate potential market to ensure availability of required medicines
Medical Image Analysis – AI-powered solutions for assisted medical imaging analysis tools for pathology, Radiology, radiotherapy, etc. and very useful amidst the pandemic
Smart POS for pharma retail – An integrated AI and cloud based POS & billing solution for billing, payment, and inventory management, intelligent reporting, in-store marketing, and customer management for maintaining supply of required medicines
Telemedicine – AI-powered analysis of patient symptoms remotely to deliver accurate prognosis post assessment of patients can assist doctors in making the diagnosis quicker and accurate
Prognosis Assistant – AI-powered cognitive analysis to help in treatment selection, to recommend first actions and prognostic prediction. It also store patients' medical records and share securely with doctors that helps in getting the correct diagnostic path
Hospital Patient Flow – AI to determine the length of stay of patients and aid in discharge process that will also help in efficient management of hospital beds specially amid the pandemic
Smart wearable sensors – Use of AI to link natural language and sensor data to identify potential health issues through changes in activity, communication and sleep patterns as tracked passively from handheld devices
Patient Assistance Chatbot – Personal medical assistant app providing automatic answers to conversations, scheduling appointments, diagnosis & treatment, medical questions answering, medical image recognition, personalized medicine.
NASSCOM Research, LHIF along with EY released a report titled "Unravelling AI for Healthcare in India" focusing on AI opportunities in the healthcare space. The report provides a unique periodic table of 150+ AI use cases across the healthcare value chain. The use cases identified in this article are also a part of the report. The report also highlights best practices across healthcare organizations that have implemented these use cases.
The post #TechFightsCOVID: 10 AI use cases in healthcare pertinent amidst COVID-19 appeared first on NASSCOM Community |The Official Community of Indian IT Industry.