Indian IT Services Reimaging Growth in the New Normal
A blog series by NASSCOM Research to highlight trends that are driving the growth for Indian IT services in the new normal
#3: Shopping Spree gathers momentum for Indian IT Services fueling expansion in the #newnormal
The Global M&A Trend, gathering steam with Indian IT companies
In my previous blog "Mergers and Acquisitions – A key growth strategy for technology companies during the Covid times July 2020" I wrote about how global technology companies which were sitting on huge cash reserves had started to leverage acquisitions taking advantage of the fall in valuations during the pandemic.
This trend started for Indian IT companies in July 2020 with Wipro and LTTS which announced acquisition of IVIA Serviços de Informática (Brazil) and Orchestra Technology (USA), respectively. And post that there has been many more acquisition announcements.
Indian IT Services' M&A Story driven by New Focus Areas    
Though, the larger Indian IT companies have been more in favor of organic growth, they have been making some strategic acquisitions every year, and this year that run rate seems to be inching higher.
Also, something that is making acquisitions this year different is the focus on newer areas and geographies.
Last year, acquisitions strategy focused heavily on building new capabilities in niche areas of digital, design and IP portfolio. And market expansion focus was mainly towards the US and the UK.
Key Acquisitions by Indian IT Services Companies – 2019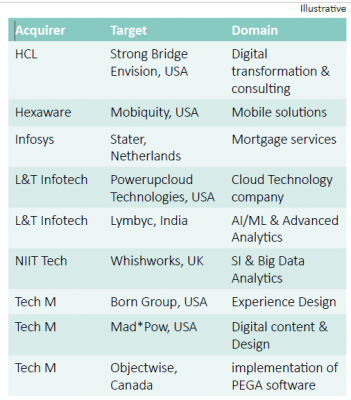 Source: NASSOM's Technology Sector in India 2020, TECHADE, THE NEW DECADE, STRATEGIC REVIEW
So how has the story changes so far in 2020? Why this shift towards Inorganic growth? And what are these new focus areas?
The shift towards Inorganic Growth
What most Indian IT companies are witnessing post the pandemic is an increasing deal pipeline which is primarily driven by digital transformation deals.
TCS reported a deal pipeline of US$6.9 billion in 1QFY21 which has increased to US$8.6 billion in 2QFY21, an increase of 24%.
Infosys reported large deal wins worth US$1.74 billion last quarter which increased nearly 2X to US$3.15 billion this quarter.
Wipro did not release any numbers but did mention that it also witnessed an improvement in deal wins.
An analysis of these deals from 1QFY21 showed that majority of these were in the areas of cloud, workplace and collaboration tools, customer experience, cyber security and automation which were emerging as the new spending themes for enterprise clients. (Read more details: "#Technologynews – The 4 Cs driving the client spending for Indian IT Services". And this focus doesn't seem to be changing as we see company releasing their deal details for this quarter.
So what this means is that to meet the capability demand for these new focus areas – the best way is to acquire niche companies that are experts in these domains.
The shift towards newer domain areas, verticals and geographies
If we look at the acquisitions that the companies have done so far in 2020, the focus on new digital areas is clear; another thing that is coming to the fore is that in addition the core markets i.e. the US and the UK, Indian IT Services Companies are expanding their footprint in newer geographies such as South America, Australia and European Markets.
Cloud and Customer Experience and are the leading focus areas for acquisitions
 (Indicative)
Company Releases; NASSCOM Analysis

Additionally, deeper vertical focus is emerging towards Healthcare, Medical Devices and Telecom (5G).

The ever growing importance of cloud as an key business area is also reflected in the recent decision of IBM to spin off its $19 billion managed infrastructure services into a separate unit in order to enhance the business focus on cloud computing and AI which are creating immense growth opportunity in the new normal as businesses across industries are migrating to cloud and focusing on Automation for efficiency and cost saving.
The Road Ahead
In my view, this shopping spree by the Indian IT companies will continue.
The top three Indian IT companies have a cash reserve of ~US$13 billion as of 2QFY21, making more such acquisitions a distinct possibility in the coming quarters, as valuations still remain attractive.
US will continue to see acquisitions as it helps Indian IT companies to add local workforce to the table, amidst the increased visa challenges. Newer markets particularly in Eastern Europe and APAC will also drive increased interest from Indian Tech leaders
Digital capabilities such as cloud, customer experience (data analytics), IoT, Cybersecurity, automation and AI will be at the forefront as enterprises accelerate their digital transformation journey.
Focus on gaining vertical specific capabilities is particularly in the areas of Medical Devices and Telecom, which are witnessing digital transformation especially in the newnormal.
In addition as I highlighted in my last blog captive technology centers of global companies will also garner interest.
The post Indian IT Services Reimaging Growth in the New Normal #3: Shopping Spree gathers momentum for Indian IT Services fueling expansion in the #newnormal appeared first on NASSCOM Community |The Official Community of Indian IT Industry.